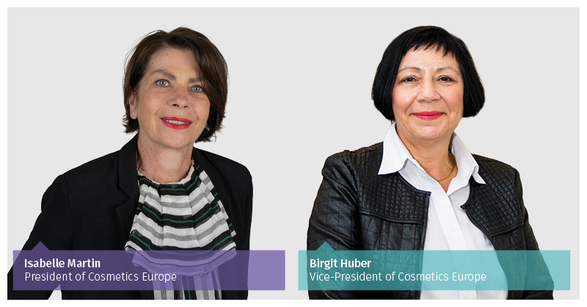 "I am honoured to take over from Hervé Toutain after his fruitful tenure as Cosmetics Europe President. Today in Europe, we are witnessing a profound political and societal transformation, which leaves no industry untouched. For the cosmetics and personal care sector, the rapidly evolving regulatory landscape driven by the green transition puts change firmly on our agenda. It is for us now to rise to the challenge of our times and contribute to the goals of the European Green Deal so that our industry continues to meet the expectations of our consumers and to prosper in Europe." said Isabelle Martin, new President of Cosmetics Europe.
"It is my ambition for this presidency to ensure that Cosmetics Europe further evolves as a proactive, trusted and effective partner and stakeholder in the current discussions, beyond the upcoming review of the Cosmetic Products Regulation." added Isabelle Martin.
Isabelle Martin succeeds Hervé Toutain, Senior Vice President for Product Stewardship and Public Affairs at L'Oréal, who has held the post of Cosmetics Europe President since June 2020.
"Our pan-European network of associations which form part of Cosmetics Europe, is a resource that I would like us to tap into even more in the coming years. They are our sector's best ambassadors at the national level. Cooperation is key to developing proactive approaches on issues such as transparency and sustainability - priorities for our ever more diverse consumer base." said Birgit Huber, new Vice-President of Cosmetics Europe.
Isabelle Martin is currently Vice-President for Public Affairs for the EMEA region at The Estée Lauder Companies. Before joining The Estée Lauder Companies in 2003, she was Director for Legal and International Affairs at Colipa (later Cosmetics Europe), the European trade association for cosmetics and personal care industry. Isabelle Martin is a lawyer by education with a PhD degree in European law from the University of Rennes (France) and a post-graduate diploma in EU law from the College of Europe (Bruges, Belgium).
Birgit Huber is Deputy Director at IKW, the German Cosmetic, Toiletry, Perfumery and Detergent Association. Before joining IKW in 1985, she studied food technology at Stuttgart-Hohenheim University. Birgit Huber has been a member of various scientific and technical working groups, such as the German Cosmetics Commission at BfR (Federal Institute for Risk Assessment) and the Information Network of Departments of Dermatology (IVDK).
In addition to the new Presidency, the newly elected Cosmetics Europe Executive Committee comprises of the following members:
Anne Laissus-Leclerc, Treasurer (LVMH)
Charles François Gaudefroy, Chair of Active Corporate Members College (Unilever)
Ronald Van Welie, Chair of Active Association Members College (NCV)
Pascal Berthe, Vice-Chair of Active Corporate Members College (L'Oréal)
Luca Nava, Vice-Chair of Active Association Members College (Cosmetica Italia)
Cosmetics Europe would like to thank its outgoing President, Hervé Toutain, for his leadership over the last two years of his mandate, during which Cosmetics Europe focused particularly on addressing developments under the European Green Deal.

Media questions
Media representatives should address their questions to media@cosmeticseurope.eu.